FiledRight compared to using Text Search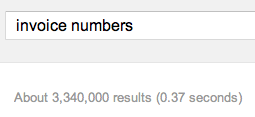 Here's a quick demo - run a Google search for "invoice numbers" and see how many hits you get. We got over 3 million. Imagine wading through a list of 3 million hits to try and find the one you need.
We admit that was unfair, but it serves to point out the main drawback of relying on a generic index methodology to try and produce targeted, relevant results. Text search systems examine document content looking for words or phrases that you hope will appear in the file you need. If the words you input do not appear in your target doc, the document will not be found. If the words appear in a lot of documents, you have to wade through a pile of results.
That lack of predictable results is not what you need when managing your important business documents. When you enter a specific invoice number, client name, or partial address, you want a very limited number of very accurate hits. You do not have time to wade through anything. When dealing with very specific data such as SSNs, invoice numbers, dates, names, or other metadata, you should be able to easily input your query in a few seconds, get a result list in less than a second, and retrieve and open a document with a click or two - all easily accomplished by a FiledRight user in less than 10 seconds.
That means less time wasted and a more efficient organization for you.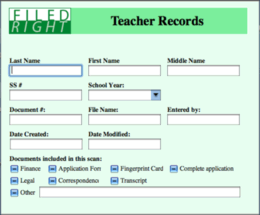 FiledRight is a central server application that manages your files using consistently applied security and metadata rules. Each department in your business has one or more FileRight-managed repositories with associated indexing and query screens. A screen contains metadata fields that relate directly to the work being performed. For example, an Invoices repository could have an Invoice Number, a Client Name, Invoice Date, and Paid Date - whatever metadata is applicable to the job at hand. This is metadata that your accounting personnel are familiar with and use every day, meaning it is easily remembered when it is time to find and retrieve the file. And if memory fails, users can query using wildcards. Each repository corresponds with an underlying database table. This means that your queries are ultra-fast, returning results in most cases in less than a second.
No more lost time finding files.
When files are stored, important fields are marked as mandatory. This means that the important stuff is always recorded so your files can always be found. No more files stored as "Bobs invoice" or "Bill from Friday" - you get consistent quality results because the FiledRight server acts as an experienced Filing Clerk, imposing rigorous filing methodology.

With more employees comes the need for improved security, and FiledRight allows you to specify exactly who can access your files, on a repository-by-repository basis. When users are added to the FiledRight system, they are assigned a role for each repository, establishing who can store, retrieve, edit, or delete any file. Easily limit access to sensitive legal and financial files or control who may issue billing documents.
Step up to a faster, more reliable way of managing all your important business files - FiledRight.